Regular price
$14.99 USD
Sale price
$22.99 USD
Unit price
per
Sale
Sold out
Transform your curly hair with Tsunami Aloe Vera & Shea Butter Leave-In Curl Conditioner. Our cruelty-free and plant-based product, made in Houston, is formulated to unlock the full potential of your curls. Say goodbye to dryness and hello to defined, soft, and styled hair with our organic and high-quality formula.
The conditioner is free from sulfates, silicones, parabens, coconut oil, and water, making it the cleanest leave-in on the market and suitable for all curl types, including 2B, 2C, 3A, 3B, 3C, 4A, 4B, and 4C. Achieve a light hold and protection against humidity while defining and styling your curls. Castor oil, enriched in our non-drying and paraben-free conditioner, moisturizes and soothes your scalp, reducing dandruff and promoting a healthy scalp.
Our carefully crafted formula is designed to hydrate and nourish your hair for a frizz-free, defined, and styled look. Embrace your natural beauty and upgrade your hair routine with Tsunami Aloe Vera & Shea Butter Leave-In Curl Conditioner, the go-to choice for those with curly hair.


The key benefits of using our Leave-in Conditioner 
Made Safe for Babies with Curls: Our deep conditioner is gentle and suitable for the delicate hair of babies with curls.

Free from Harmful Ingredients: Formulated without coconut oil, sulfates, silicones, parabens, and water, our deep conditioner ensures a high-quality, organic, and vegan-friendly product for your curly hair.

Non-Crunchy, Flake-Free, and Humidity Protection: Say goodbye to crunchy or flaky curls! Our deep conditioner defines and styles your curls with a light hold while providing humidity protection.

Intense Moisture and Nourishment: Experience the ultimate hydration with our aloe vera-based formula, which locks in moisture and nourishes your hair for a healthy and luscious look.

Ideal for Low and High-Porosity Hair: Designed to cater to both low and high-porosity hair types, our deep conditioner addresses the specific needs of your curls, enhancing their appearance and manageability.

Soothed, Moisturized Scalp with Reduced Dandruff: Our deep conditioner includes castor oil, known for moisturizing dry and irritated scalps. Its antibacterial and antifungal properties also help reduce dandruff.

Give your curls the care they deserve with Tsunami Deep Conditioner. Embrace safe and nourishing ingredients, define your curls without the hassle, and enjoy luscious, moisturized hair with reduced scalp irritation and dandruff.

Our leave-in conditioner is: silicone-free, sulfate-free, petroleum-free, polyfree, coconut oil-free, and contains no water. It is strictly aloe vera-based and shea butter-based

Share
View full details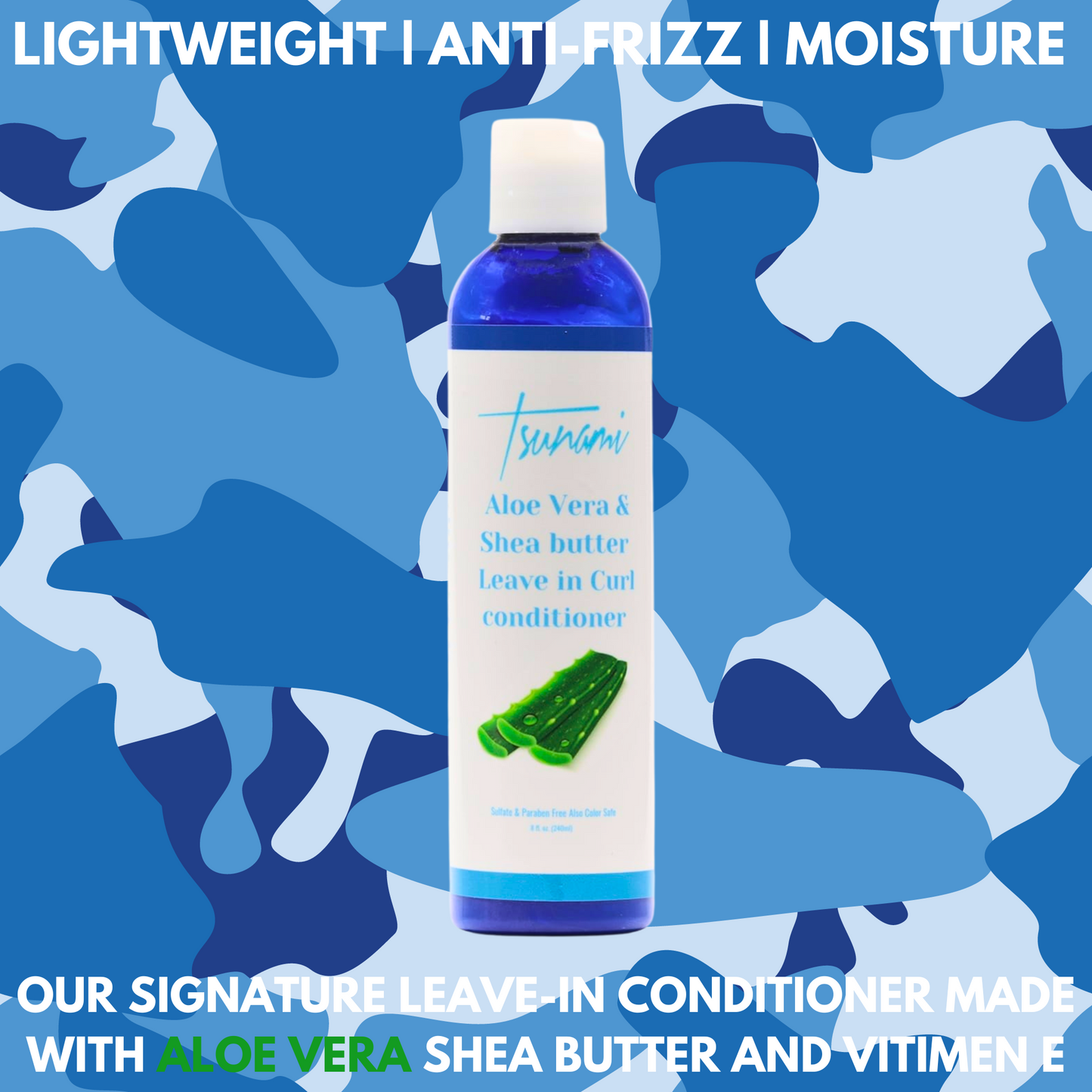 MY HAIR SMELL TOO DAMN GOOD !!!!
After struggling to find the right products for my curly hair, I came across Tsunami Aloe Vera & Shea Butter Leave-In Conditioner i found this while searching Reddit, and I am beyond impressed! This product has truly transformed my hair, leaving it nourished, defined, and frizz-free.
I appreciate that this conditioner is made with natural ingredients and is free from harmful substances like sulfates, silicones, and parabens. It's incredibly gentle on my hair while providing intense hydration and moisture.
From the moment I applied the Tsunami Leave-In Conditioner, I noticed an instant difference. My curls became more vibrant and full of life. The formula is lightweight and non-greasy, ensuring that my hair never feels weighed down or oily.
One of the standout features of this product is its ability to combat humidity. No more worrying about my curls losing their shape throughout the day! I can confidently say that this leave-in conditioner provides a long-lasting definition and keeps my curls intact.
Not only has Tsunami Leave-In Conditioner improved the overall health of my hair, but it has also positively impacted my scalp. With the added benefits of aloe vera and shea butter, my scalp feels soothed and moisturized, reducing dandruff and irritation.
I cannot recommend this product enough to fellow curly-haired individuals. Whether you have low or high-porosity hair, this conditioner is designed to meet your specific needs. Embrace your natural beauty and upgrade your hair routine with Tsunami Leave-In Conditioner – it's a game-changer!
Can we get some bigger bottles in the future?
Incredible Product
This product is unbelievable...light weight and not greasy and results in soft, shiny, defined curls every time. People have come up to me multiple times out of the blue to say that they love my hair, which had never once happened before I started using this product. LOVE this stuff!
Great moisturizer for curly hair.
Definitely a great product