Regular price
$18.99 USD
Sale price
$15.99 USD
Unit price
per
Sale
Sold out
Introducing Tsunami High Definition Curl Custard, the perfect solution for achieving defined, bouncy, and moisturized curls. Made with a unique formula, this curl custard provides elasticity, hold, and texture to your curls without causing shrinkage or frizz. This custard for curly hair is designed to enhance your natural texture while also reducing frizz and providing a long-lasting hold.

One of the key features of Tsunami High Definition Curl Custard is its ability to provide a great hold without flaking or hardening like gels. This product locks in the moisture of your hair, leaving it soft and defined without weighing it down. With this curl custard, you can enjoy lightweight curls that remain bouncy and free-flowing.

This curl custard is perfect for curly hair types 3c-4c. It is specifically designed to work with your natural hair texture, enhancing your curls and bringing out their natural beauty. If you're unsure of your hair type, check out Tsunami Hair's "Intro to Curls - Identifying Curl Type" blog post to determine your hair type and how to care for it properly.

Say goodbye to crunchy, hard-to-manage curls and hello to defined, beautiful, and easy-to-style hair. Our custard provides so many benefits, including softer, more defined, and hydrated curls, adding clean shine and luster, reducing frizz, and helping with manageability

Experience the amazing benefits of our Tsunami High Definition Curl Custard:
-Softer, more defined, and hydrated curls: Our curl custard is infused with nourishing ingredients that moisturize and hydrate your curls, leaving them feeling soft, defined, and healthy.

-Improved manageability: Tame and style your curls with ease. Our curl custard helps to reduce tangles and knots, making your hair more manageable and easier to style.

-Lightweight formula: Say goodbye to heavy, weighed-down hair. Our curl custard has a lightweight formula that won't weigh your curls down, allowing them to bounce and move naturally.

-Long-lasting hold: Keep your curls in place all day long. Our curl custard provides a stronghold that keeps your curls looking defined and fabulous from morning until night.

-Locks in moisture: Seal in the moisture your curls need. Our curl custard creates a protective barrier that locks in moisture, helping to prevent dryness and frizz.

-Frizz reduction: Say goodbye to frizzy hair days. Our curl custard helps to reduce frizz, leaving your curls smooth, shiny, and frizz-free.

-Adds clean shine and luster: Get that healthy shine you've always desired. Our curl custard enhances the natural shine of your curls, giving them a beautiful, clean, and lustrous appearance.

-No leftover flakes: Our curl custard is specially formulated to leave no residual flakes or residue on your hair. Say goodbye to flaky build-up and hello to clean and defined curls.

Share
View full details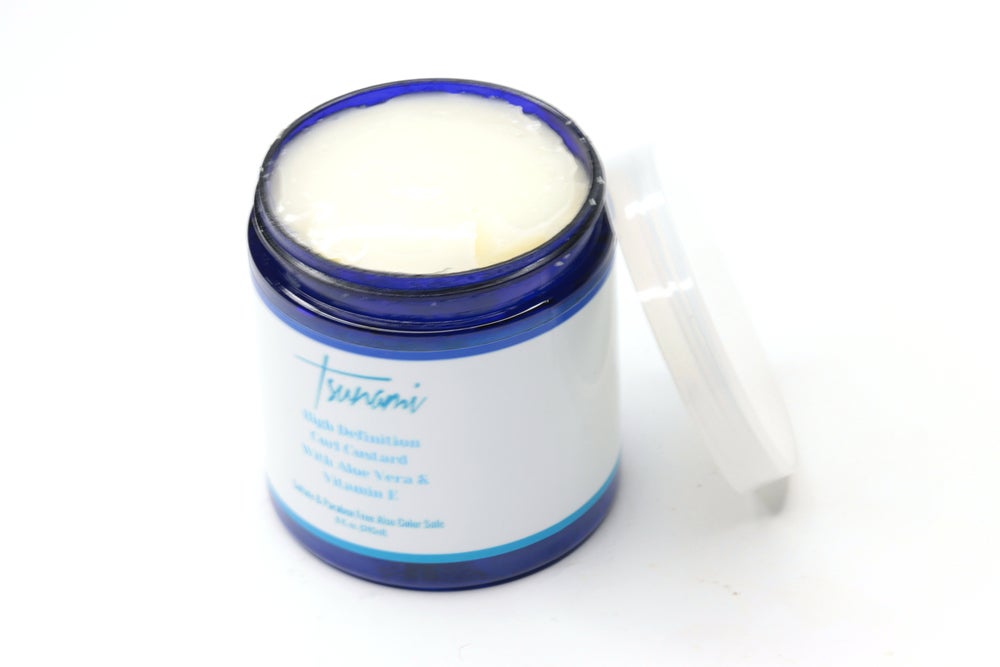 Curls Poppin white girls watchin
I ordered this after I saw the reviews on Etsy and some of the stuff on y'all IG, this curl CUSTARD IS A CURL SLAYER this had my curls straight poppin' all day even when I took my cap off in the morning for work my curls were not dry nor crunchy. I just used that fenugreek spray and my curls were back to looking like they were on day 1 with hella hydration. yall better post my pics i tagged yall in FRFR. It smells super good too and it doesn't feel thick like the other curl creams.