Regular price
$17.99 USD
Sale price
$17.99 USD
Unit price
per
Sale
Sold out
Are you on the hunt for a plant-based, non-flaky curly hair mousse that can give you defined, flexible curls? Look no further than Tsunami Curly Mousse! Our product is perfect for 2b to 4c curl types, providing unmatched hold and definition without leaving your hair flaky or crunchy.
Experience the difference with our specially crafted formula, infused with the enriching properties of flaxseed and aloe vera. Our mousse provides a natural hold that keeps your curls looking beautiful all day long. Plus, we pride ourselves on enhancing your natural curl pattern, so you can feel confident rocking your natural texture.
Say goodbye to subpar curl-defining products and hello to Tsunami Curly Mousse. Our formula is gentle yet effective, providing the hold and definition you crave while nourishing your hair with essential nutrients. And the best part? Our mousse smells amazing, unlike other products that can have an unpleasant chemical odor. Treat your hair to the ultimate curl-defining experience with Tsunami Curly Mousse.

Our curl-defining mousse offers a range of benefits
-Non-flaky formula: Our mousse doesn't leave any residue or flakes in your hair, giving you a clean and polished look.

-Plant-based ingredients: We've carefully crafted our formula with flaxseed and aloe vera, harnessing their natural properties to nourish and strengthen your hair.

-Natural fragrance: Unlike other products that can have a chemical scent, our mousse leaves your hair smelling amazing with a delightful fragrance.

-Suitable for various curl types: Whether you have 2b, 3c, or 4c curls, our mousse is designed to work with a wide range of curl patterns, enhancing your natural beauty.

-Experience the benefits of our Tsunami Curly Mousse and enjoy defined, flexible curls with a hold that lasts all day. Say goodbye to dull and lifeless hair, and hello to vibrant, bouncy curls!

Share
View full details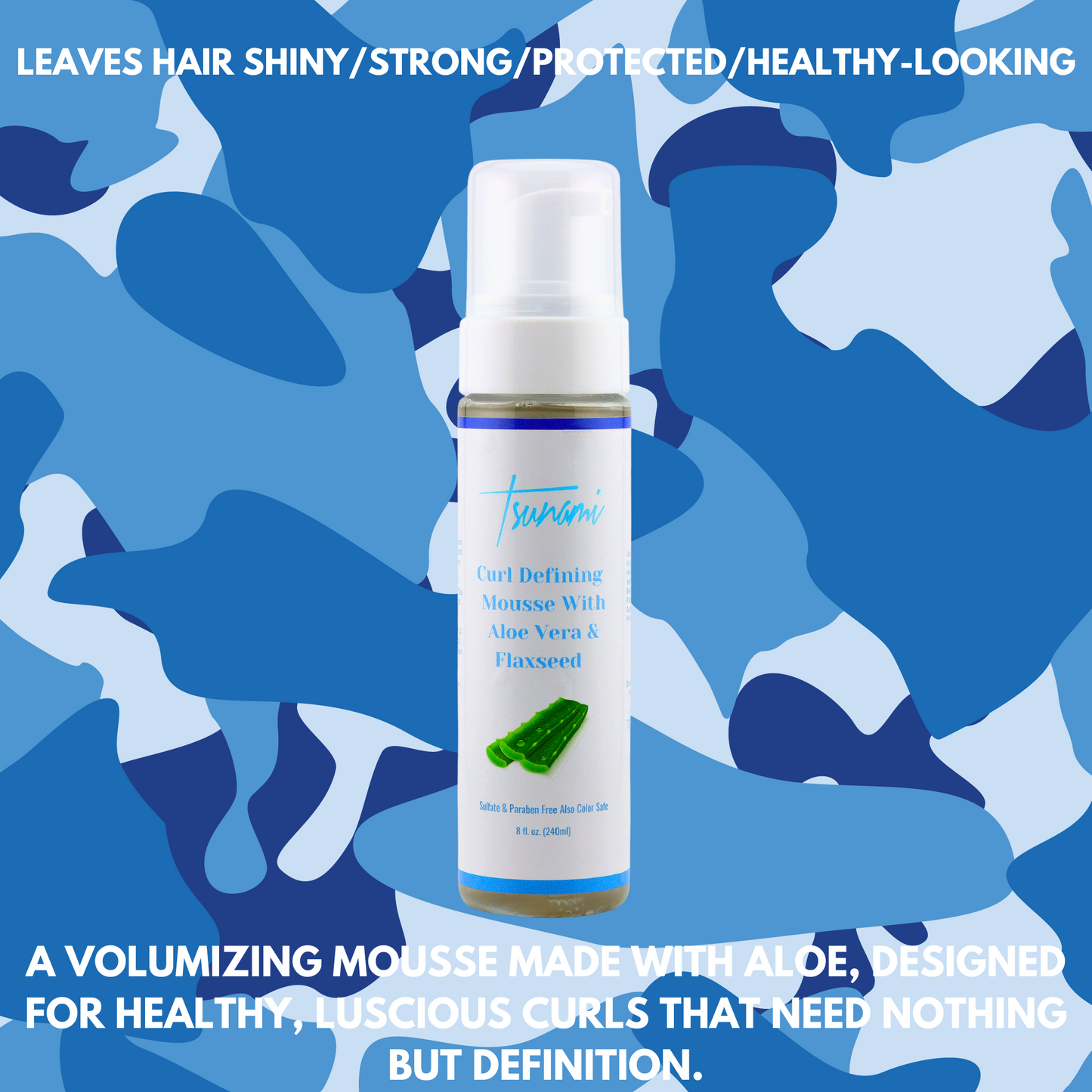 Thank you
this smell so good
when you guys came to visit to U of H, a black hairstylist attended to my hair. Initially, I was apprehensive about someone handling my hair, as my parents always claimed it was never curly. However, she took the time to explain the nature of my curls, which took me by surprise. She applied this mousse to my hair, and I must say, it's truly effective and smells amazing. My curls have become more vibrant and fragrant. I have been spreading the word about your products on campus, and I will definitely place another order once my products run out
Sincerely,
Amber.
Forever Fan
I love your products and especially the mouse and oil! Look forward to trying the shampoo and conditioner.
best mousse
I recently bought this product at the market instead of online, but I must say this mousse is amazing. My curls usually decurl and lose their definition fast and never lasted by the second day. I started using this product to refresh my hair and it keeps my definition and volume. I definitely recommend :) + it smells amazing