Regular price
$17.99 USD
Sale price
$17.99 USD
Unit price
per
Sale
Sold out
Introducing Tsunami Aloe Vera Shea Butter & Vitamin E Shampoo, a nourishing and revitalizing hair care solution like no other. Our gentle, all-natural formula is specifically designed to provide your hair with the nutrients it needs for optimal health and strength.

Enriched with the botanical powers of shea butter, aloe vera, vitamin E,  and rosemary, our shampoo delivers a multitude of benefits to elevate your hair care routine. The shea butter base soothes and calms the scalp, making it ideal for those with eczema or psoriasis. Meanwhile, the aloe vera component softens the hair upon contact, leaving it feeling silky and smooth.

We understand the importance of hair growth, which is why our shampoo is formulated with vitamin E, These key ingredients promote healthy hair growth and work to mitigate issues such as hair loss and breakage, helping you achieve the luscious locks you've always desired.

Tsunami Aloe Vera Shea Butter & Vitamin E Shampoo is not only effective, but it is also vegan-friendly, non-drying, and paraben-free. We believe in the power of natural ingredients and avoid harsh chemicals that may damage your hair in the long run. Our shampoo is carefully crafted to maintain the health and integrity of your hair, providing a truly nourishing experience.

For those who appreciate vibrant hair, our shampoo excels in both color preservation and scent quality. Make a statement with hair that not only looks vibrant but also smells great. Unleash your confidence and embrace the true potential of your hair with Tsunami Aloe Vera Shea Butter & Vitamin E Shampoo.

Experience the transformative power of Tsunami Hair today. Our revolutionary formula, featuring organic aloe vera juice, coconut oil-derived shea butter, and vitamin E, establishes a rich lather that cleanses, revitalizes, and fortifies your hair. Discover the difference that natural ingredients can make in your hair care routine.

Benefits of our Shampoo :
-Infused with shea butter and aloe vera to deliver maximum nourishment and hydration to your hair.
-Ensures an ethical and cruelty-free choice for vegans with its vegan-friendly formula.
-Preserves the natural moisture balance of your locks with its non-drying formula.
-Offers a safer option for your hair care with its paraben-free formula, avoiding potentially harmful chemicals.
-Indulge in an opulent and satisfying washing experience with its luxurious and rich lather.

Share
View full details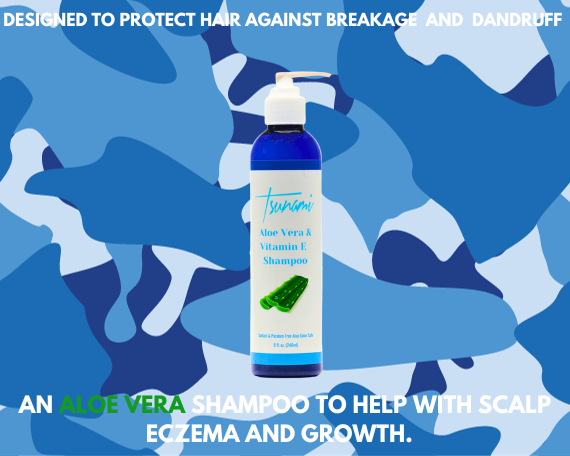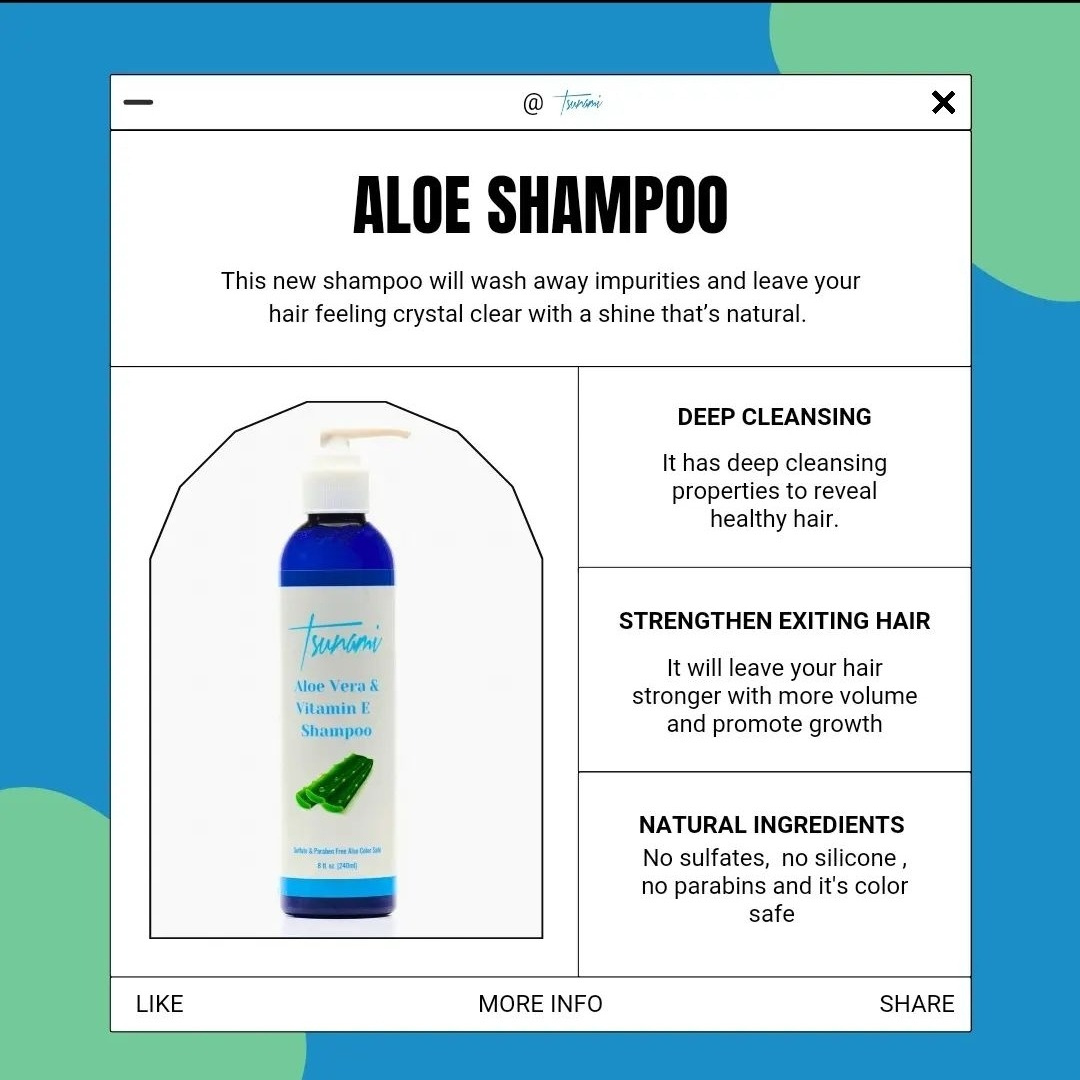 Glad we found you , Thanks tsunami
We're on our 5th order of shampoo, and all I can say is, wow! I have scalp eczema, and this has definitely been a better experience than using other shampoos it doesn't cause my scalp to burn or flake up. Not to mention, my hair is super clean and smells great! I was somewhat nervous about using products specifically for black hair, but the owners took good care of me and explained everything in detail. I will definitely be back to order more and try out new products.